Quick and Easy Wetsuit Hanger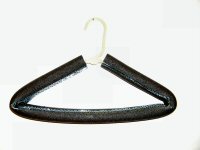 When the tri season is over, it's important to make sure you store your wet suit correctly for the next year. One of the main things you want to avoid is creases, which can be a real problem if you're hanging your suit up.
There are diving wet and dry suit hangers you can buy from scuba shops -- I have a wide dry suit hander that's my favorite, but you also can make your own hanger very cheaply.
Simply head to the hardware store and pick up a length of foam pipe insulation. Cut to a length that you can wrap completely around a clothes hanger, up to the hook. Now you've provided some padding for your suit to keep it from creasing.