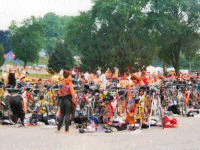 Transition: the (Oft Overlooked) Fourth Discipline of Triathlon
Many triathletes in their first few years of competition work hard on lowering their finish times, struggling to take a minute or two off the run or perhaps five minutes off the bike. However, often they overlook the place where you can easily take minutes off your race with a little preparation and smart thinking - the transition.
Triathlons have two transitions, both of which are places to pick up time without a lot of extra work. The swim to bike transition is known at T1 and the bike to run transition is T2. Here are some tips to shorten your transitions and improve your finish times.
Read more: Transition: the (Oft Overlooked) Fourth Discipline of Triathlon