10 Steps to Changing Your Eating Behavior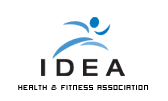 Do you alternate between following a meal plan and losing weight (being "good") and falling off the plan and regaining weight (being "bad")? It's a frustrating but common cycle. Nutrition experts Ellie Zografakis, RD, and Dale Huff, RD, CSCS, co-owners of NutriFormance Personal Training and Sports Nutrition in St. Louis believe that behavior modification strategies--rather than diets--can help you break this self-defeating cycle and make lasting lifestyle changes.
Article courtesy of IDEA Health & Fitness Association. Reprinted with permission.